Beyond a hilly countryside bordering an outer metropolis lies a magical transformation once a year at the end of summer. Trails wind through a heavily wooded forest and guide you to internationally acclaimed music on creative and intricate stages⏤some are in small barns and others are squeezed into trees. There's a reason Pickathon is the NPR of music festivals… and the most magical place to be.
Located just outside of Portland's southeast neighborhoods, Pickathon offers an incredible weekend experience for all people of all ages and interests. From country-folk to post-punk, the festival has something for every music lover. The greatest part of it all is you have the opportunity to see artists play more than once. This year, the festival is offering free shuttle rides, local and organic food vendors, morning yoga classes, and a casual, relaxed camping experience.
Conclusion: With offerings such as absurdist Swedish punk, minimal doom, and some of the best folk modern music has to offer, can you really put a price on happiness? (You can't)

Time: August 1-4, 2019 | Price: $325 (buy tickets) | Kids 12 & under get in free.
---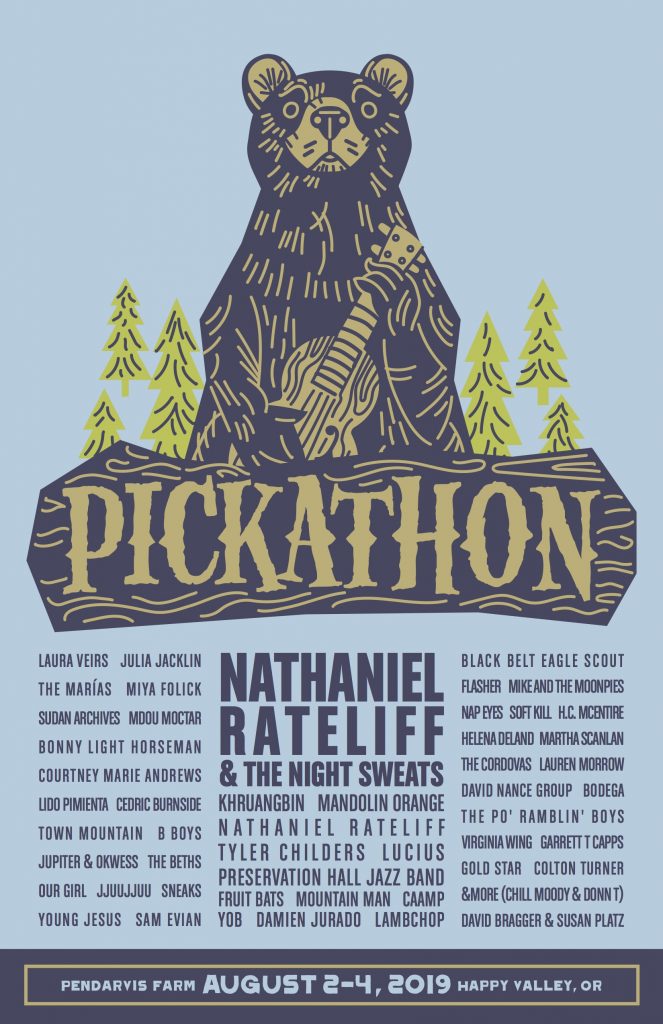 ---
Full Lineup:
Altin Gün
B Boys
Black Belt Eagle Scout
Bodega
Bonny Light Horseman
Caamp
Cedric Burnside
Chill Moody & Donn T
Colton Turner
Courtney Marie Andrews
Damien Jurado
Dan Mangan
David Bragger & Susan Platz
David Nance Group
Flasher
Fruit Bats
Garrett T Capps
Gold Star
H.C. McEntire
Helena Deland
Ibibio Sound Machine
JJUUJJUU
Julia Jacklin
Jupiter & Okwess
Karma Rivera
Khruangbin
Lambchop
Laura Veirs
Lauren Morrow
Lido Pimienta
Lucius
Makaya McCraven
Mandolin Orange
Martha Scanlan
Mdou Moctar
Mike and The Moonpies
Miya Folick
Mountain Man
Nap Eyes
Nathaniel Rateliff (Solo and with The Night Sweats)
Ora Cogan
Our Girl
Phil Lesh & The Terrapin Family Band
Pickathon Square Dance w/ Caller Caroline Oakley
Preservation Hall Jazz Band
Reptaliens
Sam Evian
Sneaks
Soft Kill
Sudan Archives
The Beths
The Cordovas
The Marías
The Po' Ramblin' Boys
The Richard Swift Hex Band
The Tender Things
Town Mountain
Tyler Childers
Viagra Boys
Virginia Wing
Vivian Leva & Riley Calcagno
YOB
Young Jesus